NEWS
Kendra Wilkinson Weighs in on Lindsay Lohan in Upcoming 'Playboy'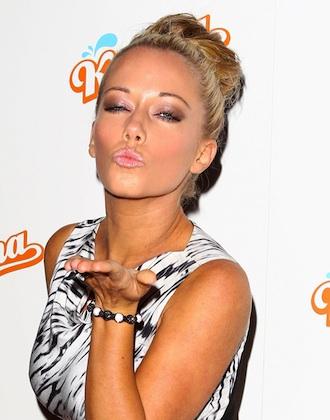 Kendra Wilkinson knows what it takes to be featured on the pages of Playboy after posing in the magazine herself and being Hugh Hefner's ex-girlfriend. The former Girls Next Door star exclusively gave OK! her "back and forth" opinion on Lindsay Lohan's recent decision to shoot a spread for an upcoming 2012 issue.
"She always came off like a girl that would do Playboy so I am not really surprised," the 26-year-old told OK! of Lindsay on Saturday night in L.A., "She is almost like a hippie type of girl."
Article continues below advertisement
Kendra wasn't shocked that Lindsay, 25, would pose nude for the magazine, but she really wasn't all too sure on how she actually felt about the decision.
I am so back and forth about it," the Kendra star explained to OK! at the Soho Presents: Masquerade Unmasking the Face of Lung Cancer fete while out with hubby Hank Baskett, "But the one thing that I can say is that in this day and age, if you have a way to make that kind of money, then go ahead."
Regardless of her mixed feelings, Kendra did realize that it may be a practical financial decision for the usually in-and-out of legal trouble Mean Girls actress.
"If that's what's going to bail her ass out of jail, I mean, go ahead. You never know. She could need the money to bail herself out," Kendra teasingly added.
Lindsay, who served around 5 hours in jail on Nov. 7 for violating her court ordered community service, is expected to be seen in the first Playboy issue of 2012.