NEWS
Kendra Wilkinson's 'DWTS' Blog: Getting Lost in the Fog!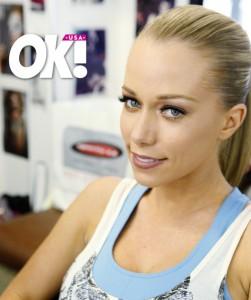 Every week, reality star, sports lover, mom and former Playboy bunny Kendra Wilkinson-Baskett will check in with OK! as she learns how to shake it on the dance floor on Dancing With the Stars! Aided by her pro partner, Louis Van Amstel, Kendra has been ready to rumba in no time!
I was so happy with our scores on Monday and that we improved. I could also tell that Louis was proud of me; I hit everything he wanted me to and that's what really matters for me. He is my teacher so I want to make him proud.
Article continues below advertisement
I'm so glad to be safe another week! Our routines are hard and Louis really pushes me. So I think the judges judge me based on both how I dance but also I dance in the difficulty of the routine. I thought they were pretty fair. I'm hard on myself, also, so I think I am my hardest critic.
OK! GALLERY: KENDRA WILKINSON BEATS THE HEAT IN L.A.
Louis says that I'm too hard on myself! Ha ha! He tells me to shut up all the time, but in a good way. Like, 'SHUT UP! Don't be so hard on yourself!' Louis is very determined. He is determined to get me to do the dance moves and that I understand them.
The fog machine was the hardest part of the week for me. It was NOT supposed to be that much fog at all. I couldn't see through it so I got really lost with where the stairs even were because I couldn't see.
I'm tired but I'm making sure I don't overdo it. I get massages when I can to loosen up my muscles and I get rest where I can. This is a marathon, not a sprint, so I'm making sure I can physically do it if were to make it to the finals.
Article continues below advertisement
OK! EXCLUSIVE: KENDRA WILKINSON'S DWTS BLOG — "I DON'T WANT TO GO HOME!"
The hours are pretty good because they work with MY schedule so I can be there in the morning when Hank wakes up and I can be there for lunch sometimes and usually there to put him to sleep. I'm exhausted but it's a good feeling. I feel like I'm balancing a lot and accomplishing a lot at the same time, so it's great.
Baby Hank dances all the time, it's really cute. Every night when I get home I show my husband what I learned that day in rehearsal and baby Hank dances around.
OK! VIDEO: WATCH KENDRA WILKINSON "TRY TO BE A LADY" ON DANCING WITH THE STARS
My confidence has gotten A LOT better. I am getting more comfortable in front of an audience. My legs have changed a lot too! I have calf muscles, ha ha! I'm eating really healthy, a lot of proteins and a lot of water. I'm still taking Ab Cuts, so that has totally helped me with everything. Especially for the glamour on this show because it makes your hair thicker and eyes lashes longer, so that's DEFINITELY helping me in hair and makeup!
Article continues below advertisement
I think my legs look better than they did when I was living in the mansion just because now I have muscle in them and definition. It's crazy how many areas dancing works. All the girls have amazing legs, Lacey's are amaaazing!
I have NO idea why the judges can't stop talking about my chest! Kirstie, Wendy and I all have chests, I'm not the only one! I have no idea why it keeps being brought up. I really haven't even worn anything low-cut.
OK! EXCLUSIVE: KENDRA WILKINSON'S DWTS BLOG: THE FIRST NIGHT JITTERS!
I was SO excited when I heard Chelsea Kane was dancing to a song called "Chelsea" because I always lived by the words of Too Short that "Every superhero has their own theme song." I have the intro to my show, so when I heard she had her own song I loved it and I told her that quote so that's what we've been saying backstage all week.
I think we all worry about that happening to us (like Maksim's leg going out), both the male and female dancers. You worry about being dropped or about dropping someone, I'm sure. I think they recovered well and she did her thing!
Back to practice!
Kendra