NEWS
Kevin Costner's Emotional Speech at Whitney Houston's Funeral: "You're Gone Too Soon"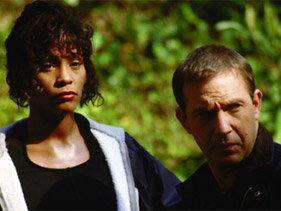 It was a sad day filled with emotion and music as Whitney Houston was laid to rest at New Hope Baptist Church in Newark, N.J. today.
Many friends and family from Tyler Perry to Clive Davis gave beautiful speeches but one of the most emotional came from Whitney's co-star in The Bodyguard, Kevin Costner.
Talking about how they broke racial barriers casting a white man as her bodyguard in the 1992 film and how he put off the film for a year to wait until Whitney was done with her tour. It was obviously worth the wait.
Article continues below advertisement
"At the height of her fame as a singer I asked her to be my co-star in a movie called The Bodyguard. I thought she was the perfect choice, but the red flags came out immediately. 'Maybe I should think this over a bit.' I was reminded that this would be her first acting role. 'We could also think about another singer,' was a suggestion. Maybe somebody white. Nobody ever said it out loud, but it was a fair question, it was.
OK! GALLERY: WHITNEY HOUSTON LAID TO REST IN NEWARK, N.J.
"There would be a lot riding on this — maybe a more experienced person was the way to go. It was clear, I needed to think about this. "I told everyone that I had taken notice that Whitney was black. The only problem was, I thought she was perfect for what we were trying to do. There was a bit of a relief in the room when we found out that Whitney was going to be on tour and she wouldn't be available for our movie. The anxiety came right back when I said we should postpone and wait a year.
Article continues below advertisement
OK! NEWS: WHITNEY'S FUNERAL IN NEWARK WITH KEVIN COSTNER, ALICIA KEYS AND MORE
"That was a lot for the studio to accept, and to their credit, they did, but not without a screen test. Whitney would have to earn it. That was the first time I saw the doubt. The doubt creep into her that she would not be handed the part. She would have to be great. The day the test came and I went into her trailer after the hair and makeup people were done, Whitney was scared. Arguably, the biggest pop star in the world wasn't sure if she was good enough."
But she was good enough and the film is one of the most beloved. And her song "I Will Always Love You" will never forgotten. And neither will Whitney.
Kevin continued, "You weren't just pretty, you were as beautiful as a woman could be. People didn't just like you, Whitney. They loved you. I was your pretend bodyguard once not so long ago, and now you're gone, too soon, leaving us with memories — memories of a little girl that stepped bravely in front of this church, in front of the ones that loved you first. In front of the ones that loved you best and loved you the longest. The bolder you stepped into the white-hot light of the world stage, and what you did is the rarest of achievements.
Article continues below advertisement
OK! NEWS: WHITNEY HOUSTON IS DEAD AT 48
"You set the bar so high that professional singers, your own colleagues, they don't want to sing that little country song. What would be the point? Now, the only ones who sings your songs are young girls like you, who are dreaming of being you some day. And so to you, Bobbi Kristina and to all those young girls who are dreaming that dream, that maybe thinking, are they good enough? I think Whitney would tell you, 'Guard your bodies, guard the precious miracle of your own life, and then sing your hearts out,' knowing that there's a lady in heaven who is making God himself wonder how he created something so perfect.
"So off you go, Whitney, off you go. Escorted by an army of angels to your heavenly father, and when you sing before him, don't worry... you'll be good enough."