NEWS
KFC's Tasty Deal for Rihanna & Chris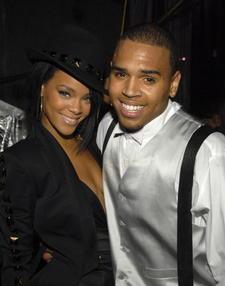 Chart-topping couple Rihanna and Chris Brown are usually pretty reserved about showing their affection in public — even going so far as to deny their romance to the media — so it was out of character when the pair decided to have a little PDA-fest last week at a Miami-area KFC.
Feeling that their food was somehow behind Rihanna and Chris' makeout session, KFC has extended the not-so-secret lovebirds an offer they'd be hard-pressed to refuse.
Article continues below advertisement
In an open letter to the "Umbrella" singer, KFC Chief Marketing Officer James O'Reilly writes:
"Dear Rihanna:
We were very excited by your and Chris Brown's recent visit to a Miami-area KFC restaurant.
Clearly, like Kentucky Fried Chicken and our founder Colonel Sanders, you two know how to kick it up a few degrees. And, Rihanna, that's a secret recipe worth sharing with the world.
We could feel the heat – literally – in our restaurant that night … so much so that we'd like to invite you and Chris back to any KFC for a free meal including the Colonel's Hot Wings. Whether lunch or dinner, home or on the road, our doors are always open to you. Think of it as a personal way to send an SOS whenever you crave a little Original Recipe.
Like you, KFC is dedicated to supporting charity causes. If you and Chris are again photographed making KFC a "hot" date-night spot, we'll make a donation to your charity, BELIEVE, which helps underprivileged children.
Hearing about your fondness for KFC was music to our ears. Please don't stop making KFC your favorite mealtime choice.
Good luck to you and we hope to see you again soon with or without an Umbrella."
Of course, this offer from KFC is nothing compared to the deal Popeye's Chicken gave to Beyoncé a few years back, when the chicken chain gave her a card guaranteeing her free food at any Popeye's for life after the singer mentioned how much she enjoyed their product on Oprah Winfrey's talk show.