NEWS
Khloe Kardashian Confirms She & Lamar Odom Are "Taking a Break" From Their Reality Show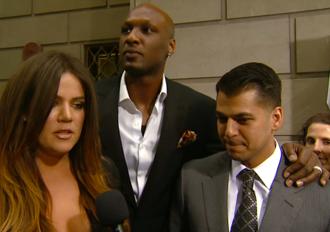 So as it turns out, the rumors were sort of true. Khloe Kardashian confirmed that Khloe & Lamar is going on hiatus at the E! Network's Upfront Event in New York City last night.
OK! GALLERY: KARDASHIAN CLAN BEANS AT E! NETWORK'S UPFRONT EVENT IN NYC
Yesterday, reports were swirling that Khloe and Lamar Odom's reality show was cancelled due to the fact that Lamar, who was recently dropped from the Dallas Mavericks for being out of shape, wanted to focus on his basketball career and get back into the NBA.
Article continues below advertisement
"We just want to be happy," Lamar added, as he stood by Khloe and his brother-in-law, Rob Kardashian. "We'll take our time and we'll get back to it when it's time."
Are you happy that Khloe and Lamar made this decision?