NEWS
Khloe Kardashian at Kim Kardashian's Wedding: "I Give It Six F'ing Months"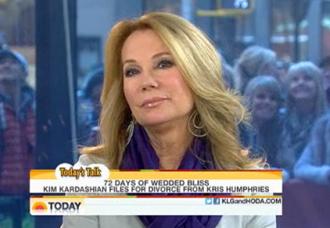 Article continues below advertisement
The only thing Kathie Lee thought was strange about their relationship was seeing them the night before their wedding.
"There were only maybe 50 people there and I never saw them together the entire night," Kathie Lee said of Kim and Kris. "That doesn't mean everybody celebrates the same way. That's the only thing I thought was unusual...she seemed very excited about getting married."
Kim issued a statement yesterday saying, "After careful consideration, I have decided to end my marriage. I hope everyone understands this was not an easy decision. I had hoped this marriage was forever but sometimes things don't work out as planned. We remain friends and wish each other the best."
In regards to the statement, Kathie Lee said, "The time for careful consideration is before you get married. Falling in love is the easiest thing in the world. ... Falling is a verb. You have no control, but staying in love takes work, takes commitment. Their ceremony was all about commitment and when the good times are over, you hang in there and something beautiful can come out when the marriage is tested in fire."
MORE ON:
Kathie Lee Gifford
Article continues below advertisement
OK! NEWS: KRIS HUMPHRIES "DEVASTATED" BY KIM KARDASHIAN DIVORCE & WANTS TO "MAKE IT WORK"
The Today host doesn't want her gift returned as it was a donation to charity. And while Kathie Lee didn't see the divorce coming, she does remember something Kim's sister Khloe told her at the reception.
"I would never have said it before. At the reception, afterwards, Khloe, who always says what she thinks, walks by me — and I don't think she'd care if I said it — she goes, 'I give it six f'ing months.' "