NEWS
Khloe Kardashian Odom Talks Nip-Slip & Shakes It for Regis Philbin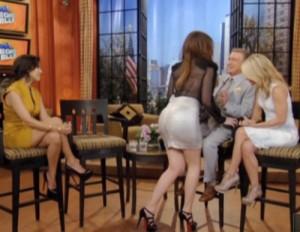 Khloe Kardashian Odom has been very naughty on her recent publicity jaunt to promote season six of Keeping Up With the Kardashians. Khloe and sister Kourtney Kardashian stopped by Live With Regis and Kelly yesterday, where they gave Regis Philbin a lesson about the "N Word" — nipple!
Khloe complained about Kourtney's efforts to spruce up her appearance before they went on camera.
"She's, like, critiquing me, like, oh, your boob is showing this way, and you have cellulite there, and you have this there," Khloe explained.
Article continues below advertisement
OK! VIDEO: KHLOE KARDASHIAN ODOM "LOVED" HAVING A "NIP SLIP" ON FOX & FRIENDS
Kourtney wanted Khloe to avoid showing a nipple, which she already did earlier that day on Fox & Friends.
Khloe called nipple "the 'n' word," which really got Regis' attention.
"All he's trying to do is not look," co-host Kelly Ripa quipped.
Khloe and Kourtney encouraged Regis to look and then Lamar Odom's wife walked over to Regis and shook her chest for him!
Regis excitedly called out to producer Michael Gelman, and Khloe asked if he was confused.
"No, I'm amused," he responded with a smile on his face. "And very happy about it, too."
Catch clip, via TV Squad, below!