NEWS
Khloé Kardashian: Ready for Baby?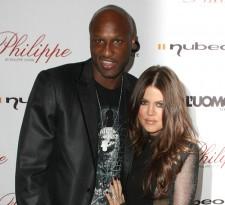 Khloé Kardashian and her new hubby Lamar Odom can't wait to start a family. "Lamar keeps asking me when I want to start!" she tells OK! in the new issue.
Khloé and Lamar first have some items on their agendas that need to be taken care of before they start their own family — Find a home (they've been staying at L.A. hotels since their Sept. 27 wedding) and welcome Kourtney Kardashian's baby boy (due in December) to the family.
Article continues below advertisement
OK!'S EXCLUSIVE PICS OF KHLOE & LAMAR'S WEDDING:



Have you and Lamar given thought to having babies of your own?

We definitely want to have children. Lamar already has two children, Destiny, 10, and Lamar Jr., 7, from a previous relationship. But I feel like we just got married: In my head, I'd love to settle in and find a house first. I'd like to wait a year; I have to learn to be an NBA wife first. But I would also be thrilled if it happened now.

CLICK HERE FOR ALL OF OK!'S KHLOE KARDASHIAN NEWS & PICS!

Tell us more about your domestic life. Are you cooking and cleaning for him?

He's very sloppy. I have OCD, so I'm very organized. Like crazy organized. And he's an only child so, you know, he takes his clothes off and leaves them on the floor —it drives me crazy! But Kourtney is like that so I'm used to cleaning up after people.

At least you're almost done with filming right?

We're done on November 15, and if I don't find a house by then I'll go crazy. I'm going to see Britney Spears' old house now — I heard it's to die for. Hopefully it is!

Check out the new issue of OK! available everywhere Thursday for more of Khloe's interview with OK!

Interview by Shauna Bass