NEWS
Khloé Tweets Some 'Tough Love' to Kourtney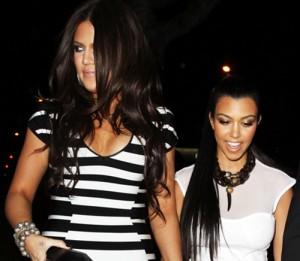 Khloé Kardashian Odom has not had a change of heart when it comes to sister Kourtney Kardashian's baby daddy, Scott Disick. On Sunday night's episode of Keeping Up With the Kardashians, Khloé's stance on Scott remained the same, and the reality star even took to her Twitter last night to dish out some "tough love" to Kourt.
The most outspoken of the sisters took to her Twitter after the episode to deliver Kourt a firm message.
Article continues below advertisement
"Im there 4 Kourt by not letting scott continue 2 hurt her. Tough love it is. Im not going to 4give some1 6 times. Ur not me" Khloé Tweeted Sunday night.
Khloé continued to list her reasoning for not giving Scott any more chances.
"Peps r so quick 2 say im mean 2 Kourt. Actually I love her but I want 2 protect her. Scott has been not good #1"
OK! VIDEO: KIM & KOURTNEY KARD — THERE IS NO COMPROMISING WITH KHLOÉ
"2 her so I need 2 c a REAL change before I feel comfortable letting Mase and Kourt around him."
"I dont allow peps 2 treat me like crapthen open my arms up 2 them so quickly. Kourt needs 2 think be4 she goes back in2 her comfort routine." she added.
However, at the end of her little tirade, Aunt Khloé descended from her soap box and put the issue to rest with a kind Tweet.
"Mason is the best! And Kourt is an amazing mama"
Other highlights from last night's episode include Khloé performing an impromptu vow renewal for Bruce and Kris Jenner and Kim Kardashian debuting her new home and throwing a housewarming party — where she has an anxiety attack over keeping her new place clean!