NEWS
Khloe vs. Trump: The Feud Heats Up!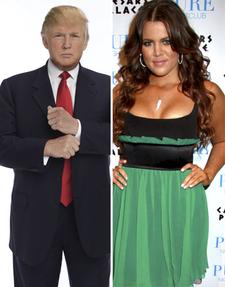 We've got a feeling a certain feud is leaving the boardroom and heading for the real world!
After Khloe Kardashian got the boot from Donald Trump on The Celebrity Apprentice, each side has taken to the Internet to air their issues. Khloe recently blogged about The Donald giving her the axe, which she blames on her history with alcohol abuse.
"The Donald fired me off of Celebrity Apprentice last night," she wrote on April 6. "It wasn't because of my work ethic, it wasn't because I was slacking -- it was because of my DUI, one of the biggest mistakes I've ever made that I will forever regret. I will NEVER say that what I did was right, but I think it is completely unrelated to my place on the show and I don't think I should have been fired for that reason alone. I have tried to bring awareness to how serious DUI's are and I am trying to make some right out of my huge mistake."
Article continues below advertisement
She goes on to skewer Donald for forgiving former Miss USA Tara Conner for her drinking, but not her.
"I find it weird that he can forgive and take back Tara Conner but he can't do the same with me?!" she adds. "The things people do for ratings!"
And now Donald is fighting back with a blog of his own, titled, "Point Counterpoint."
"There's been a lot of commotion about alcohol lately. On The Celebrity Apprentice, two of our celebrities have admitted problems with it. One had a DUI conviction. People wonder why I take a strong position on this situation," he writes, clearly indicating Khloe, who was caught driving under the influence in 2008.
"My experience with alcohol is limited, as I don't drink. Maybe that allows me to have a clearer view of what it can do to people who do not handle it responsibly. Many people can drink and live healthy and productive lives. Others cannot."
He goes on to detail his brother's struggle with alcohol, before delving into the Tara issue, writing, "Then people got into another commotion because I pardoned Tara Connor for her irresponsible behavior which also included alcohol use. Here's the difference: She had just entered celebrity, which was a new arena for her, and these contestants have already had professional success as well as celebrity.
So if I take a hard line on this subject, maybe there's a reason for it. I like and care for these people, and I don't want to see them hurting themselves. Looking the other way might be an easier way to go, but that's not the way I am."
The Celebrity Apprentice airs Sundays at 9 p.m. ET on NBC.