NEWS
Kid Rock Decks Tommy Lee at VMAs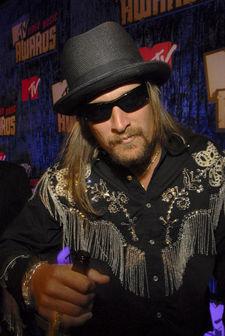 While many viewers thought that last night's Video Music Awards show needed a bit of a punch to get it going, most of them probably didn't mean that in a literal sense. Well, someone should have told Kid Rock, who, according to an eyewitness, "really clocked Tommy" during Alicia Keys performance at the Palms in Las Vegas.
"Pow!" the witness recalls to OK!. "Tommy took two punches right to the face!" Despite being the one on the receiving end of Kid's knuckle sandwiches, Tommy was the one selected by the Palms' security to be removed from the ceremony.
Article continues below advertisement
Though no reason for the scuffle has been given, it is widely believed that it has something to do with Pam Anderson, to whom both Rock and Lee have been married in the past, and who was on-hand to present an award.
Later in the evening, Jamie Foxx, onstage with Jennifer Garner to present an award, made a joke about "stopping all this white-on-white" crime.