NEWS
Kid Rock to Work With Run DMC Again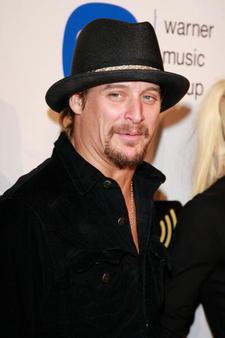 Kid Rock is about to "walk this way" back to Run DMC.
The Rock N Roll Jesus singer tells Fox's Good Day New York that he definitely has plans to collaborate with the famed hip-hop group again.
"We've been talking about it," he says.
Kid and Run DMC's musical relationship dates back to 1999 when they performed "Walk This Way" at the MTV Video Music Awards with Aerosmith. Since then, the two artists have gone on tour and even rang in 2008 together. Having been a lifelong fan, Kid says Run DMC has meant much more than a rap group for him.
Article continues below advertisement
"For me, Run DMC was really the blues music of my day and age," the 37-year-old says. "When I really got older...I started to analyze music and break it down -- my love for blues music for jazz, R&B, which basically and put its finger on everything on popular culture until hip-hop came along.
He continues, "When hip-hop came along, this has been the only other musical art form that we've seen that's touched everything in popular culture."
For the full interview, tune into Good Day New York Friday morning.