NEWS
Kidd Kraddick on Scarlett Johansson Dating Rumors: "This Has to Stop!"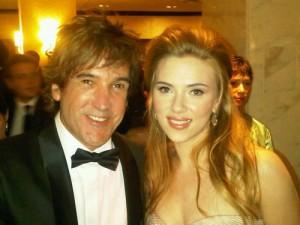 Be careful what you joke about on the radio! Rumors have been circulating the Web about nationally-syndicated morning radio host Kidd Kraddick dating the newly single A-list actress Scarlett Johansson — who just announced her split from husband Ryan Reynolds this week. The rampant rumor was fueled by an interview between Kidd and rap mogul Sean "Diddy" Combs, in which Diddy joked he would help the host get some "Scarlett booty."
Article continues below advertisement
Kidd and his co-hosts interviewed the rapper Wednesday and told him they would help promote his Dirty Money's Last Train to PARIS album under one condition.
The conversation went like this:
KIDD: Hey you want me to be a big fan and lead everybody to the iTUNES promise land for DIDDY-Dirty Money.
DIDDY: Please sir, please.
KIDD: Then I need some Scarlett Johansson hook-up.
DIDDY: Okay I get you some Scarlett Johansson booty immediately!
KIDD: Alright, thank you sir.
The duo were obviously joking with their humorous banter, but since the interview Kidd has been dealing with some fallout.
"This has to stop! Do NOT retweet! >>Wow I can't believe Scarlett left Ryan Reynolds because of Kidd Kraddick!!! Crazy" the host Tweeted along with a link to his Facebook page and a message that read: "Such an insensitive headline. What is wrong with people? I'm so disappointed."