NEWS
Kim Cattrall's Foodie Romance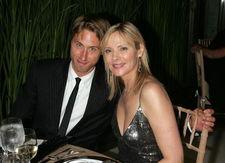 Kim Cattrall and her Canadian chef boyfriend Alan Wyse hope to take a European vacation this summer.
"We love to eat, go to vineyards and see great art," the chef, 28, tells me. "Europe has great art. America does too. We like history. Architecture is fun."
The couple, who have been dating for three years, call Paris a favorite. "It has beautiful restaurants and food," he says.
With a chef for a boyfriend, Kim, 51, is getting five-star treatment.
Article continues below advertisement
"She loves everything I make. She loves steak and she made a soup and grilled cheese. She also likes it when I cook her fancy French meal for her. She loves it all."
What's Kim's best asset?
"Her personality is great. She's very low-key. She's very intelligent and she loves great food, so it makes my life that much better that she loves great food."