NEWS
Kim K. Likes What Eminem Has to Say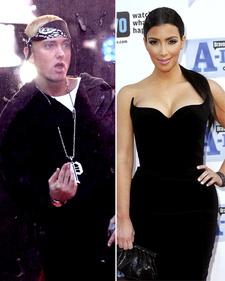 Eminem has quite a record when it comes to offending celebrities, but this time around at least one of them is laughing!
In the rapper's new video for "We Made You," a Kim Kardashian (sort of) look-a-like is out to dinner, booty and all, as Eminem raps, "Damn, I think Kim Kardashian's a man/She stomped him just because he asked to put his hands on her massive gluteus maximus again."
Another scene has Kim's backside knocking Eminem out with a single punch. Impressive!
Article continues below advertisement
But that doesn't even faze the reality TV darling, as she responds in her official blog:
"I just saw Eminem's new video for "We Made You" and he totally spoofs me!! It was a total surprise to me because I had no idea he was going to talk about me in the song.
I think this video is so funny! I am a huge Eminem fan and find it flattering that he would rap about me. He's a bit harsh about some other celebrities, but you just have to let it go and have a sense of humor. Personally, I'm honored."
The video takes on almost every newsworthy celeb this year, including Sarah Palin, Jessica Simpson and Tony Romo, Britney Spears, Ellen DeGeneres and Portia de Rossi, Jessica Alba and Cash Warren, Jennifer Aniston and John Mayer, Bret Michaels, Lindsay Lohan and Samantha Ronson, Amy Winehouse, Blake Fielder-Civil and more, if you can believe it.
Welcome back, Em.
WATCH BELOW: