NEWS
Kim Kardashian Calls Jon Hamm's "Stupidity" Comment "Careless"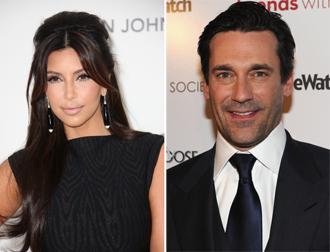 Celebrity feud alert! Kim Kardashian is firing back at Mad Men actor Jon Hamm for the "stupidity" comment he made to Elle UK against her calling the remark "careless."
OK! GALLERY: JON HAMM, KRISTEN WIIG, MEGAH FOX & THEIR FRIENDS WITH KIDS ATTEND NYC SCREENING
In the interview with Elle UK, Jon shares his opinion on celebrity culture.
"Whether it's Paris Hilton or Kim Kardashian or whoever, stupidity is certainly celebrated," the 40-year-old actor says (via Daily Mail). "Being a f***ing idiot is a valuable commodity in this culture because you're rewarded significantly."
Article continues below advertisement
OK! NEWS: KRIS HUMPHRIES DISAGREES WITH KIM KARDASHIAN KEEPING THEIR WEDDING GIFTS
Well, Kim has now read Jon's comments and doesn't appreciate them.
"I just heard about the comment Jon Hamm made about me in an interview," she wrote in a long Tweet. "I respect Jon and I am a firm believer that everyone is entitled to their own opinion and that not everyone takes the same path in life. We're all working hard and we all have to respect one another."
"Calling someone who runs their own businesses, is a part of a successful TV show, produces, writes, designs, and creates 'stupid,' is in my opinion careless."
Whose side are you on?