NEWS
Kim Kardashian Catches "Bieber Fever"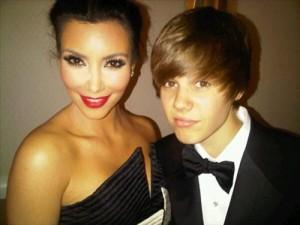 Justin Bieber's big wish finally came true — meeting his celebrity crush Kim Kardashian! The teen pop sensation and reality star/model/entrepreneur met at the White House Correspondents' Association Dinner this weekend and both celebs couldn't wait to Tweet about it!
"Look its my girlfriend," Justin Tweeted with the pic of him and Kim, dressed in their White House best.
Kim posted a similar pic of her and the teen heartthrob on her blog, calling Justin her new love!
Article continues below advertisement
She also Tweeted "I officially have Bieber fever!!!"
Shortly after, Ryan Seacrest Tweeted at Bieber,"Now she wants to know are you guys really dating? Ha".
Recently, Kim took to her blog to suggest Justin date her younger sister Kendall Jenner.
At least Justin is keeping it in the family!