NEWS
Kim Kardashian Cries Over 'W' Magazine Silver Body Paint Spread on 'Kim & Kourtney Take NYC'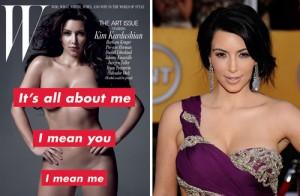 Kim Kardashian may have been happily flaunting her stuff at the SAG Awards last night (accompanied by her brother Rob Kardashian), but during last night's new episode of Kourtney and Kim Take New York the reality star had a bit of a meltdown over her now famous shoot in the November 2010 issue of W Magazine, where she posed nude covered in silver body paint.
"I was naked but fully covered in silver paint," Kim told Kourtney Kardashian during the episode, before she received the prints from her agent. "This artist will put images of architecture and buildings and stuff on top of me so you will see my body shape and the outline but not actually my boobs or anything."
Article continues below advertisement
The photos shot by renowned photographer Mark Seliger caused Kim to sob, as she ranted about how she was promised her body would be covered.
"I'm more naked here than I was in my Playboy," she said crying to Kourtney and sister Khloé Kardashian Odom who was in the Big Apple for a visit. "I feel so taken advantage of. I've definitely learned my lesson. I'm never taking my clothes off again, even if it's for Vogue."
But Kim has since learned to own her nude photos.
"At the end of the day they are gorgeous photos and I'm glad I did it and I love them, but at the time I was shocked about how they weren't how I thought they would be," she told Ryan Seacrest during his KIIS-FM radio show last year.
Recently, Kim Tweeted a picture of herself half naked in a skimpy bathing suit — showing her followers that she is confident in her skin.
Also on last night's episode, Kourt's beau Scott Disick came to Kim's aid when she was being taunted by a couple in a bar.
"I luv @scottdisick 4 sticking up for me! People give him such a hard time but hes a great guy! u will see a new side of him this season!" Kim Tweeted.
Were you surprised by Kim's reaction to her W shoot on last night's show? Share thoughts in the comments section!