NEWS
Kim Kardashian & Kris Humphries Get a Furry Wedding Present From PETA!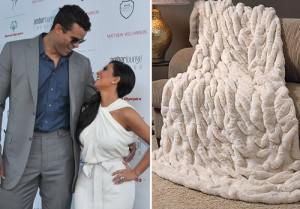 Everyone wants a piece of the Kim Kardashian wedding pandemonium. As Kim prepares to start her new married life with Kris Humphries, PETA is sending the bride and groom a special housewarming gift! And it's furry!
The animal rights group is pals with the Kardashian krew — Khloe Kardashian Odom posed nude for a PETA anti-fur ad) and wanted to congratulate Kim and Kris with a token gift — a glamorous faux fur throw blanket courtesy of Donna Salyers' Fabulous Furs.
Article continues below advertisement
OK! NEWS: KHLOE KARDASHIAN DISROBES FOR PETA
"Today's luxurious faux furs make it easy for anybody to keep up with the Kardashians," PETA President Ingrid E. Newkirk tells OK!. "We hope that every time Kim looks at her beautiful gift, she thinks about the animals who were electrocuted, stomped, or skinned alive for the real fur she has favored in the past and she decides that in her new life as Mrs. Humphries she will only go with the faux."
FOR MORE ON KIM KARDASHIAN'S WEDDING, PICK UP THE NEW ISSUE OF OK! — ON STANDS EVERYWHERE THURSDAY!