NEWS
Is Kim Kardashian Really a Blonde?!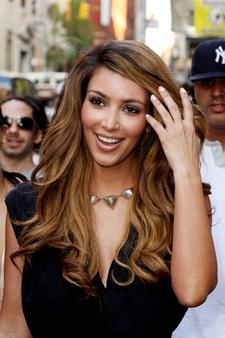 You've got to love a new look for summer!
Kim Kardashian stepped out on a gorgeous day in Manhattan yesterday with a "drastic" new look -- but then admitted it wasn't quite the real thing.
The famous brunette literally drew crowds (from the look of the pictures below) as she strutted through SoHo with her new blonde 'do, which she had already announced on Twitter.
"Hey everyone, I have a drastic new look!" Kardashian had written on her page. Then about an hour later she added: "I went blonde!"
Article continues below advertisement
But then she admitted on her blog today that all was not as it seemed.
"It's a wig!," wrote the Keeping Up With The Kardashians star. "Did I have you fooled?
"I did a fabulous photo shoot this weekend and they put this hair piece on! I haven't taken it off since, because I'm really loving the look.
"I've been wearing it around New York and everyone thought it was my real hair! It's making me want to dye my hair and maybe go lighter for the summer. What do you think? Should I dye it for real?"
We say... yes!
CLICK THE pics to see her new look!