NEWS
Kim Kardashian Works It Out In Studio City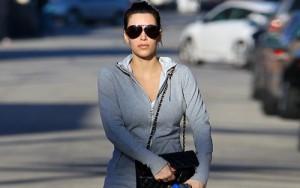 There's no denying that Kim Kardashian's body is in tip top shape. Kim kept up with her fitness regime and hit up the gym for a refreshing morning workout yesterday morning in Studio City, Calif. Kim has been rumored to be shaking up on the east coast with her new beau Kris Humphries in the near future.
According to TMZ, Kim and friend LaLa Vazquez may be living quite close to each other, in the same building! TMZ reports that Kim and Kris are looking to move into the same building as couple friends LaLa and Carmelo Anthony!
Article continues below advertisement
Kim and Kris announced their relationship earlier this year in January. Do you think it's too soon for Kim and Kris to be moving in together?