NEWS
Kim Kardashian "Would Die" To Be In Twilight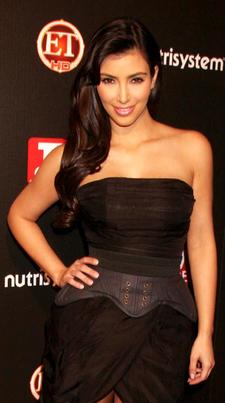 Watch out Kristen Stewart -- Kim Kardashian might be after your job.
The celebulite says that she "would die" to be in Twilight (we're not sure you actually have to die to be a vampire in a movie, Kimmy, but whatever) so that she could be "evil" and hang around with undead cuties like Robert Pattinson, Billy Burke and Kellan Lutz.
"I want to be a vampire," she told PopEater.com, "I would be one that was probably nice — no, I kind of want to be evil. I don't know what I'd want to be — just a vampire."
Article continues below advertisement
"I would die to be in Twilight," she said, "being around all those hot guys."
Over to you, New Moon casting directors.
And speaking of hot guys, she admitted to the site that there has been a little tension in her relationship with New Orleans Saints star Reggie Bush because they have such different attitudes to the media.
"We definitely have struggled with it," said the Keeping Up With the Kardashians star.
"He is so private and I'm so not, we're complete opposites. Just the whole paparazzi world and stuff like that he wasn't used to. But we definitely have our private time at home and when we're in New Orleans we have so much fun."
CLICK the pics for OK!'s RPattz gallery!