NEWS
Kim Kardashian's 'Allure' — Her Hairless Body?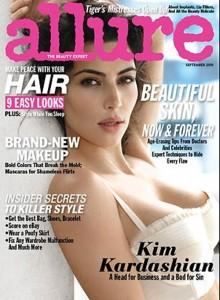 Kim Kardashian puts her best beauty forward on the September cover of Allure magazine. The buxom bombshell opened up to the magazine about holding her head high during the media backlash following the release of her sex tape, her hairless body and growing up with religious influence.
"Not my most proud moment, it was humiliating. But now let's move on," Kim said of her sex tape with former boyfriend, R&B singer Ray J. "Not that I don't think it's no one's business, but I think I've done a good job with replacing negative things with positive things."
Article continues below advertisement
After getting the tough question out of the way, Kim comments on her beauty routine and opens up — a little too much — about one of her favorite grooming techniques: laser hair removal.
"I am Armenian, so of course I am obsessed with laser hair removal! Arms, bikini, legs, underarms ... my entire body is hairless," Kim reveals of her grooming practices.
From laser hair removal to religion, Kim covers all the bases in the candid interview.
She delves into her religious upbringing, saying, "All the books we read before bed were, like, Bible-study books. Or little tales, like Samson and Delilah with cartoons. And my mom would have Bible study at the house with her girlfriends."