NEWS
Kim Kardashian's Divorce Gets the 'Saturday Night Live' Treatment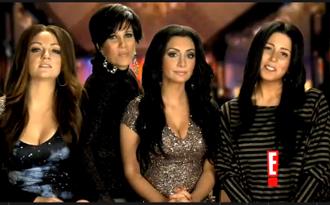 Kim Kardashian may be trying to grieve in private over her decision to divorce Kris Humphries after only 72 days of marriage, but the masterminds at Saturday Night Live couldn't let the opportunity for a skit pass by.
OK! COVER STORY: KIM KARDASHIAN FILED FOR DIVORCE — WHAT REALLY HAPPENED?
And we hate to say it, but we're happy they addressed Kim's divorce drama!
In a hilarious bit that aired on this weekend's installment of the hit NBC sketch-comedy show, Kristen Wiig took on Kris Jenner opposite comic Nasim Pedrad as Kim along with a slew of other SNL regulars and reenacted Kim's extravagant Aug. 20 wedding in their own special way — a version of an E! "Fairytale Divorce Special."
Article continues below advertisement
"Can you believe I'm old enough to have a daughter who's getting divorced? No, you can't, because my surgeries worked," Kristen-as-Kris said, referencing the face-lift Kris got before Kim's wedding.
"I know a lot of people say Kim got married just to make over $17 million from the wedding," she continued. "But that's not true — she also got married for attention."
OK! NEWS: KIM KARDASHIAN CONFIRMS KRIS HUMPHRIES DIVORCE — "NOT AN EASY DECISION"
Nasim played an upbeat Kim, explaining in the in skit, "Things are looking up for me: I'm single and there's an NBA lockout!"
SNL guest star Charlie Day even had a cameo in the skit, playing the couple's divorce attorney and joking how it was the best divorce party ever, and even the scallops were wrapped in bacon and $100 bills!
Watch the clip, via NBC, below.