NEWS
Kim Kardashian's Follicle Follies: We've Been Waxing Since Age 12!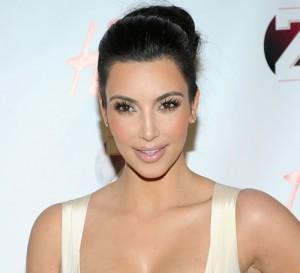 It's no secret that brunette bombshell Kim Kardashian has had a tough time with her hair — even joking that her Armenian heritage was responsible for her follicular woes. Kim and her sisters used to try it all — namely waxing, starting quite a young age — but now she's got a new way to groom those pesky strands! Why head to the doctor's office when you can laser away your hair woes at home?
Kim's struggle to maintain her body hair started at a young age.
Article continues below advertisement
"When we were 12 Years old my mom started waxing our eyebrows," she admitted to OK!. "And then at 13 we were getting bikini waxes and we got really into beauty and taking care of yourself at a really young age. Being Armenian, you don't want to go to school with like, a unibrow!"
IN THIS ISSUE OF OK!: KARDASHIAN CHRISTMAS CARD UNVEILED!
After trying out in-office laser treatments at a doctor's office, Kim has become a huge fan of the new Tria at-home system, the first FDA-cleared product which allows you to safely zap off your hair... for good, all in the comfort of your own bathroom!
"I swear, I tell all my friends this is like the greatest invention of life. I mean, waxing, not only is it more painful, but like then it grows back and its not even thinner, whereas with laser it's like each time you do it it comes back thinner and thinner," Kim explained to OK!, adding that her busy schedule made it hard to go in for treatments.
OK! NEWS: KARDASHIAN SISTERS CELEBRATE MASON DASH DISICK'S 1ST BIRTHDAY!
And now Kim is spreading the word to Khloé, Kourtney, and her mom, Kris Jenner, a die-hard waxer!
"My mom was really stuck in her ways on waxing. She always was a waxer," explains Kim. "I told her I was like, 'Mom, please just try laser hair removal. It will change your life.' And she didn't believe me for the longest time. And now she's like completely addicted."
Check out TRIA online at TriaBeauty.com for more on how you can zap away your hair worries like Kim!