NEWS
Kim Kardashian's Nephew Mason "Stole the Show" at Her Wedding, Says Julianne Hough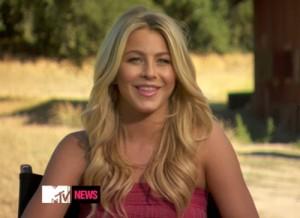 Julianne Hough had a blast at Kim Kardashian's wedding, and while she loved seeing the stunning bride walk down the aisle and her maids of honor — all in white — the real thrill was ring bearer Mason Dash Disick, who made the guests "aww!" as he fulfilled his duties and ran down the aisle!
"To just see them walking down the aisle was just beautiful," Julianne told MTV News. "And then little Mason, Kourtney's little boy, he kind of stole the show."
Article continues below advertisement
Mason's trek down the aisle didn't go off without a hitch, as he had some trouble reaching his aunt and new uncle.
"The pillow and the rings; the walking and the running back and forth — it was very, very sweet," Julianne said. "Very cute."
The Footloose star attended the wedding with her beau Ryan Seacrest, who executive produces many of the Kardashian reality shows on E!
Watch Julianne talk about the wedding below!
Get More: Music News