NEWS
Kim & Kourtney Kard: There Is No Compromising With Khloé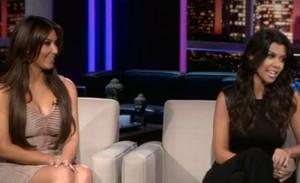 Kim and Kourtney Kardashian chatted with Chelsea Handler last night on the set of her talk show, and cracked some jokes about their baby sister Khloé Kardashian Odom. The sisters also opened up about the current state of their love lives and the new season of their hit reality show Keeping Up With the Kardashians.
Chelsea joked with Kourtney that she must really love Mason's baby daddy Scott Disick for tolerating all his shenanigans.
Article continues below advertisement
"I do," Kourtney said about still loving Scott. "I think that it's been challenging. Everything that happened in Miami is hard to watch back and relive. I'm in a different place now."
Kim admits that she is the closest with Scott, but when it comes to Khloé's relationship with Mason's daddy, that is a different story.
"There is no compromising with Khloé," Kim said, with Kourtney in agreement.
Kourtney did admit however, that her baby sister can have a sensitive side.
"She must save that for Lamar," Chelsea — who said her personality meshes best with Khloé — joked.
OK! GALLERY: KOURTNEY, MASON & SCOTT DASH BACK TO L.A.
The sisters also talk about their new book, an autobiography entitled Kardashian Konfidential — a project matriarch Kris Jenner is not involved in.