NEWS
Kim Raver Would Love to do a 'Grey's Anatomy' Spin-off with Teddy: "It Would Be Great Fun!"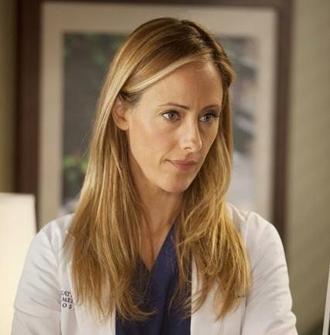 Grey's Anatomy creator Shonda Rhimes recently confessed that she would love to do another spin-off, this one focusing on Kim Raver's character, Teddy Altman. And now, Kim reveals she'd definitely be a part of it!
As fans should know, in the dramatic finale, Teddy left Seattle Grace after Owen (Kevin McKidd) "fired" her so that she could take on a job with MEDCOM, which is short for the U.S. Army Medical Command.
Article continues below advertisement
OK! NEWS: GOODBYE MCDREAMY! PATRICK DEMPSEY LEAVING GREY'S ANATOMY AFTER EIGHTH SEASON!
"The table read for the finale was just so emotional," Kim tells E! News. "You work really together as a family, and so even though you know it's a storyline, there's so much happening on so many different levels."
Kim admits she cried reading the script, which revealed Teddy and Chyler Leigh's character, Lexie Grey — who died in the season finale — would both be leaving the show.
"I mean, sobbing, sobbing, sobbing," Kim explains, "because there is no going back."
Kim may not be able to go back, but will she go forward?
"I don't think that's a possibility that has been ruled out. At least not by me," Shonda said of whether Kim will ever appear on Grey's again. "I love Kim. I say to my partner Betsy Beers every once in a while, 'We could do a series that's just MEDCOM.'"
"I love Kim; she's amazing," she added to E! News. "I don't know. I think maybe it'd be cool one day if she could come back. We'll see."
OK! NEWS: KATE WALSH CONFIRMS SHE'S LEAVING PRIVATE PRACTICE NEXT YEAR
So if there is another spin-off series — Private Practice with Kate Walsh being the first — would Kim be down to do it?
"I think that would be great fun. I love working together with Shonda," Kim reveals. "I think that she's sort of one of a kind, so yeah, to be able to do a Teddy spin-off would be quite fun!"
Do you think Shonda should create her dream series, MEDCOM, with Kim?