NEWS
Kimora Lee Simmons Ponders Playboy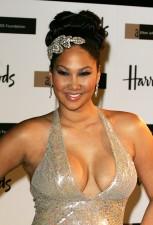 Kimora Lee Simmons has a sneaking desire to pose for Playboy, but her many business ventures prevent her from baring all.
"I've talked to Playboy quite a bit," the mogul, 34, who wed Djimon Hounsou in May, tells me. "We've talked about it quite a few times. I've had cover stories lined up more than once. It's something I never came around to doing at that time."
She continues, "I feel like I'm a little different than some of these women who do it because I do have a tremendous business, and an empire and a fashion line – my whole life of my businesses and being an entrepreneur and a business mogul. Sometimes I feel like I have the sex appeal and the wherewithal, and I feel like getting out there and doing it."
Article continues below advertisement
Kimora is mom to Ming, 9, and Aoki, 7, whose father is ex-hubby Russell Simmons, and son Kenzo, 7 months, whose dad is Djimon, and takes inspiration from married mom of two Lisa Rinna, 46, who bared all in the men's mag in May.
"I think if you can do it, and Lisa Rinna did it – great- and she looks hot, and then there are other times when I think 'is this the same message I want to reflect about me as a businesswoman?'"
She adds, "It's just about balancing and juggling and wearing many hats. Sometimes I ask myself as a businesswoman, 'would Oprah do that?' Then other times, I say 'but if Oprah had that body would she do it?' I don't know!"
Her parting thought? Never say never.
"I think if you have it and you feel great doing it, and you look great, then I have no problems with it. I've been in talks with them lots of times and it just didn't work out because of the place I was at in my life. But I'm not in any way saying I wouldn't do it. I think the human body is wonderful, and certainly the female form. I think Lisa Rinna looks great, and she should do what makes her feel great."
Check out Kimora's Last Word interview in the OK! on newsstands now. "Introducing Kendra's Baby Boy" is the cover line.