NEWS
Kimora: Powerful Men Are A Lot To Deal With!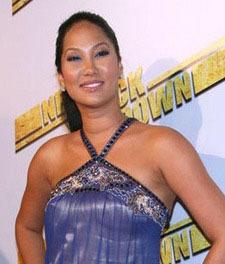 Kimora Lee Simmons may be enjoying life in the fab lane with actor beau Djimon Hounsou, but her recent divorce from hip-hop mogul Russell Simmons left a sour taste in the designer's mouth.
"When you get married, you're forced to drink the milk long after it's spoiled. When the milk spoils, you should be able to throw it out," Kimora, 33, explains in the new issue of Giant magazine. "I met Russell when I was 16, and was married by my early 20s. I was too young to really know myself."
Article continues below advertisement
The mom of Ming, 8, and Aoki, 5, says, "Powerful men are a lot to deal with!" After a two-year separation from Russell, the Kimora: Life in the Fab Lane star filed for divorce in March.
"I've come through the fire, and even if you don't see my scars, they're there. I'm just happy and grateful to go home to my kids and a man that loves and accepts me for me — glamorous or not."
How fabulous!