NEWS
Kings of Leon Aren't Gleeks: Turned Down Offer to Appear on Hit Fox Show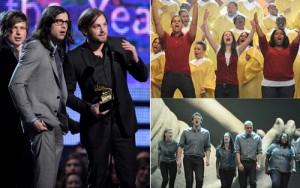 Most big names in the music industry jump at the chance to sing their hears out on the hit FOX show Glee — but not everyone wants a piece of William McKinley High. The Kings of Leon turned down their offer to make a cameo on the musical series.
The band's bassist Jared Followill said his Grammy-winning rock band said no thanks to a request for their music to appear on the FOX mega-hit.
Article continues below advertisement
OK! NEWS: KINGS OF LEON CANCEL CONCERT OVER "UNSANITARY" PIGEON POOP
"We could have sold out so much more," Caleb said. "We turn stuff down constantly."
"We had some people call us up wanting to know if we'd allow 'Use Somebody' to appear," Caleb added. "Next day, they called back and tried to put us through to the star of the movie — I won't name names, but he's an incredibly famous actor — to let him try and convince us to agree to do it. I was like, 'Man, don't even waste your energy.' "
Kings of Leon also turned down an offer from Ugly Betty.
"They wanted us to play ourselves," Jared said. "We were supposed to come in and help with some problem or other."