NEWS
Kirk Cameron Says He's Been Slandered & Accused of "Hate Speech" Since Piers Morgan Interview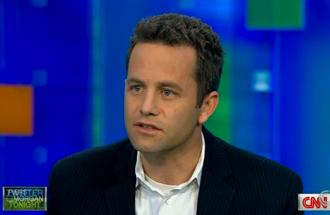 Kirk Cameron has been making headlines since he appeared on Piers Morgan Tonight and shared his opinions on homosexuality and abortion — and not necessarily in a good way. Many disagree with the former Growing Pains actor's beliefs that homosexuality is "unnatural" and "ultimately destructive to so many of the foundations of civilization."
Kirk is now responding to his critics and defending himself against their accusations of "hate speech."
Article continues below advertisement
OK! NEWS: KIRK CAMERON SOUNDS OFF TO PIERS MORGAN ON ANTI-GAY OPINION; GLAAD RESPONDS
In an email statement to ABC News, Kirk says it is his "life's mission to love all people."
"I should be able to express moral views on social issues," he said, "especially those that have been the underpinning of Western civilization for 2,000 years — without being slandered, accused of hate speech, and told from those who preach 'tolerance' that I need to either bend my beliefs to their moral standards or be silent when I'm in the public square.
"I believe we need to learn how to debate these things with greater love and respect," he concluded, "I've been encouraged by the support of many friends (including gay friends, incidentally)."
OK! NEWS: CELEBS TWEET WITH JOY OVER PROP 8 REPEAL
Neil Patrick Harris is not one of those people. The How I Met Your Mother star and openly gay actor Tweeted yesterday, "That Kirk Cameron is hilarious!"
Does Kirk's remarks make you think differently about him voicing his opinion?