NEWS
Kirk Cameron is 'Still Growing'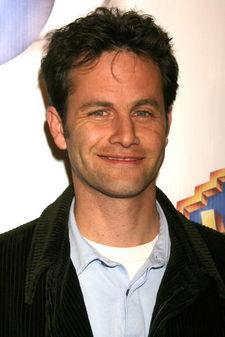 Kirk Cameron went from teen heartthrob to Christian evangelist, and released his autobiography, Still Growing, which is in stores now.
The former Growing Pains star started a family with costar Chelsea Noble, whom he married in 1991, and the couple are parents to six kids -- Jack, 11, Isabella, 10, Anna, 9, Luke, 7, Olivia, 6, and James, 5. (The four oldest are adopted, and the two youngest are biological.)
Article continues below advertisement
How did Chelsea catch his attention at the height of his career?
"She caught everybody's attention when she walked on the set," Kirk, who leads The Way of the Master evangelical ministry, tells me. "She's beautiful and what really captured my heart is when I began to get to know her. She was just such a real person. She was far more beautiful on the inside than she was on the outside, which is rare in anyone, let alone an actress from Hollywood. My wife is from a small town in upstate New York. She really wasn't raised and bred here in Los Angeles. I think that's what accounts from her down-to-earth and straight-forwardness that I love so much."
Being married for seventeen years is quite a feat for a Hollywood couple.
"There's a little phrase that we used called 'learning to die to yourself,'" Kirk tells me. "That ultimately means marriage is not an agreement where you agree to let your spouse make you happy for the rest of your life. If you go into marriage that way, you're going be disappointed and you'll end up most likely another sad statistic. But if you go into marriage realizing this is a school where you learn to die to yourself and work for the higher good for the one that you've married, even at the cost of personal expense ... in other words, lay down yourself and your life for the one you've married, and you will cause that person to grow and bloom and be the most wonderful spouse in the world. That's a person you can live with and stay in love with for the rest of your life."
Article continues below advertisement
Family gatherings between the four Cameron sibs – including Full House star Candace, 32, Bridgette, and Melissa – can be a hoot.
"We usually get together for special occasions," Kirk tells me. "My sister just had a baby, so we all got together for that. Sometimes for Thanksgiving the family got together. We usually have a big Christmas dinner at our house. Everybody comes over. We've got a pretty big family. Our family gatherings are forty-plus people, and with all the kids, it's up to around fifty or sixty."
What are Kirk's kids into these days?
"My son Jack is 11, and he's into music and Legos," Kirk tells me. "My daughters are into ballet and singing. My littlest one, she wants to be a farmer. She wants to be Fern from Charlotte's Web. She'd like to have a cow and a goat and a goose and a rat and a spider. And my other little guys, they love racecars and power tools and catching lizards."
How has adoption changed their lives?
Article continues below advertisement
"By giving me four beautiful children to love," Kirk tells me. "Adoption is so special. My adopted kids know that they're in our family because we wanted them to be in our family. We chose them. That's something special that every adopted child can know. They didn't have to be adopted by their parents. They really wanted them. They're just my kids. Literally, I forget who's adopted and who's not. It really doesn't seem like that. They're my kids, I'm their dad and Chelsea's their mom. It's just a great, wonderful way to not only have a family yourself but meet a real need in the lives of so many of these orphans."
Check out Kirk's Still Growing, which is out now.
For more on Kirk Cameron, pick up the OK! on newsstands now. "Brit's Private Mommy Moments" is the cover line.