NEWS
Kirsten Dunst: Fame Can Be Lonely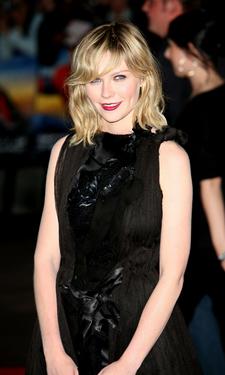 While her character in How to Lose Friends and Alienate People has to try to claw her way to the top working at a celebrity-obsessed magazine, Kirsten Dunst says she doesn't worry about grabbing covers in her real life.
"I leave that to my publicist. Actually, my first cover was a book in the Babysitters Club series, Claudia Gets a Phantom Phone Call," she reveals to Parade.com.
"I was a child model/actress and I did it strictly for the money. My first magazine cover was with Tom Cruise in a photo that looked like he was getting ready to suck my blood. That was when I played Claudia in Interview With the Vampire."
Article continues below advertisement
However she's not immune to the buzz surrounding her at controversial moments, like when she posed scantily-clothed in Maxim.
"All the fuss was weird because I'm very comfortable with my own body," she confesses. "But I began to realize that kids look up to me and I have to think of this role model thing. I started wondering if I've been too sexy. Sometimes I think it's sexier not to show too much. It's like, 'What's the point?' "
Kirsten also admits that she can identify with Marie Antoinette's troubles with celebrity after playing her onscreen.
"Being famous can be isolating," she says. "I was 11 when I started acting, and I've always been surrounded by adults and people I'm trying to please. It can make you feel very lonely. You're constantly wondering if people are using you."
The Spiderman 3 star says she's gotten some good advice, however, from others in the industry on how to deal with the ups and downs of fame and success.
"The one thing every actor has told me is, 'Always keep your head on straight and never stop being the person you really are.' As soon as you start getting wrapped up in the celebrity side of the business, which has nothing to do with acting, that's when you can lose it," she recalls. "I remember James Wood telling me, 'Do small movies.' But I took that with a grain of salt because he said it while he was in that Oliver Stone football epic Any Given Sunday."