NEWS
Kirsten Dunst Opens Up About Depression & Rehab in BlackBook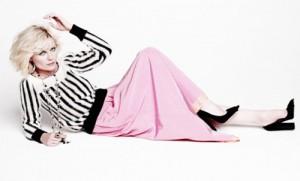 Kirsten Dunst is gearing up for a big comeback with her upcoming film All Good Things, playing the role of Katie — a vulnerable girl entangle in a complicated relationship, opposite Ryan Gosling. The actress opens up to BlackBook magazine about her role and how filming it affected her personal life.
"Katie her character had been torn down, and I know what it's like to lose yourself, to no longer know the difference between right and wrong," she tells the January issued of BlackBook. "I was ready to play something like that. I had been living life on the surface, emotionally, and I was feeling really vulnerable, so I was prepared to do anything at that point."
Article continues below advertisement
OK! GALLERY: 'ALL GOOD THINGS' PREMIERE BRINGS BACK KIRSTEN DUNST
Kirsten filmed the movie shortly after her stint in rehab for depression.
"My friends and family were put in a position where they had to defend me, and it was an awful time," she shares about her time at the Cirque Lodge rehab center.
"When you're a single girl in your twenties, yeah, you go out with your friends," she adds. "And sometimes you drink too much. I don't know anybody else, with any type of job, who doesn't do that."
Next she is gearing up to play the role of Camille in the highly-anticipated film adaptation of the Jack Kerouac's novel, On the Road.