NEWS
Kirstie Alley and Jenny Craig Part Ways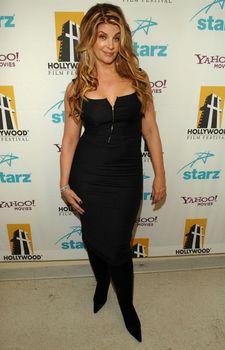 Amidst rumors of weight gain leading actress Kirstie Alley's dismissal from the Jenny Craig ad campaign, Steve Bellach, the company's director of branding, advertising, media and analysis, tells OK! that the company and the actress are indeed parting ways.
"After being a Jenny Craig celebrity client for these past three years - losing 75 pounds and maintaining that weight loss for more than a year — Kirstie Alley is ready to move on to other creative challenges," Bellach tells OK!. "She's proud to have been able to participate in the creation of Jenny's award-winning, integrated advertising campaign, and says she's thankful for the opportunity to help so many other people learn how to successfully manage their weight."
Article continues below advertisement
Once weighing more than 200 pounds, Alley slimmed down with the help of Jenny Craig and turned fat into fame with her television series Fat Actress. But, recently reports have surfaced that Alley is struggling with weight issues once again and is back above 200 pounds. While the business end of their relationship has come to an end, Bellach says Alley is dedicated to remaining on the diet. He tells OK!:
"Although Kirstie will not appear in future advertising endeavors for us, she does remain on Jenny Craig's maintenance program, and is confident that our program has helped her learn healthy eating and exercise behaviors and make positive lifestyle changes."
A manager for Alley did not return calls.
By: Jon Warech