NEWS
Kirstie Alley Falls During Rehearsal, Then Earns First 10 on 'DWTS'!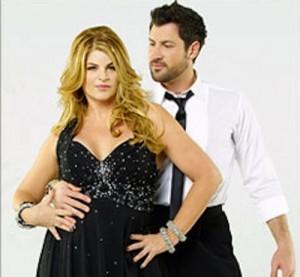 Before Kirstie Alley snagged a 10 for the Argentine tango on last night's Dancing With the Stars, she literally fell off the stage during rehearsal! Running on merely 1,400 calories each day, Maksim Chmerkovskiy said it's not enough.
OK! EXCLUSIVE: BROOKE BURKE "ROOTED" FOR KENDRA WILKINSON ON DWTS — "SHE IS REALLY RAW AND HONEST"
Kirstie told reporters her dancing partner said she needs to get up to 2,000 calories each day. "Usually what I do to lose weight is 1,400 calories, but I guess if I'm working out 5-7 hours I have to change it up a little bit." In fact, she forgot to eat the day she fell off the stage!
Article continues below advertisement
OK! GALLERY: STARS DOUBLE UP ON REHEARSALS FOR DWTS
So, in the midst of all of this calorie counting, Kirstie told OK! she's getting closer to her ideal dress size but isn't quite there yet. "No, almost!" Plus, she added she's a stretch 4 to 6. "Well, you know the stylist brough me 4s and 6s this week. But they're sort of strechy so it's not really…I always look for the dress that is unmovable. I have on Alexander McQueen that is a legitimate 4, and when I'm in that for real and looking hot it doesn't move. It's structure, and then I know I'm done. I'll try it on next week, if I've got it on then I know 4-6."
OK! NEWS: KIRSTIE ALLEY LOSES SHOE ON DTWS
Sounds like she is getting more svelte by the week as judge Bruno Tonioli even proclaimed, "Your body is shrinking and your talent is huge!" Shrinking indeed. Kirstie mentioned she's at her bikini weight on Oprah right now. "I think I'm at that right now. But that, I need to be less than that. When I saw the Oprah deal I thought, this looks like a rapper's girlfriend. Too much on the thighs, too much on the butt."
Even though she may be too harsh on herself, let's not forget that tonight is an elimination episode. Kirstie mention says she and Maks deserve to be on the show. "If I've danced my best, and I go, I go. I go out in my mind on top. So it doesn't feel like last week when I screwed up. I feel like we deserve to be here."
Reporting by Amanda Champagne