NEWS
Kirstie Alley Gets Weight-Loss Reality Show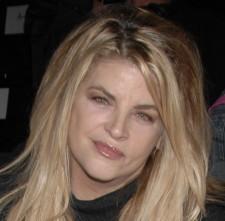 Kirstie Alley is making her TV comeback as the star of an A&E reality show chronicling her struggle to raise her teenage children and lose weight.
The cable network has ordered 10 half-hour episodes of the "docu-series" featuring the Cheers star.
"I have a new show on A&E," Kirstie, 58, Tweeted Nov. 3. "A very funny docu about me liosing sic weight, raising unpretentious kids, and biz."
"I hope it's not like any real show you've ever seen.. Thats my goal.." she added in another Twitter message. "I hate reality shows, so this outta be a REAL challenge.."
Article continues below advertisement
Kirstie, who was a spokeswoman for Jenny Craig, appeared in the self-referential 2005 Showtime comedy, Fat Actress, playing a version of herself coping with Hollywood's fixation on thinness.