NEWS
Kirstie Alley Sounds Off Against Howard Stern, Praises Jessica Simpson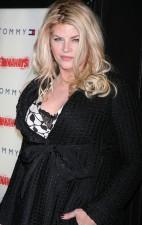 With Lisa Marie Presley and Gabourey Sidibe being criticized for their bulging bellies, Kirstie Alley can relate.
Although the actress (whose A&E reality show Big Life begins tonight) brings kids Drew and Lillie to The Runaways premiere held this week in NYC, she doesn't censor herself when it comes to Howard Stern's biting remarks about Gabourey.
"Howard Stern is a f***head," she says. "He's not the standard of beauty in Hollywood."
Article continues below advertisement
One celebrity who wins Kirstie's approval? Jessica Simpson.
"I haven't seen The Price of Beauty, but I love her," she says. "She's funny, and she can take the punches. She's smart."
The former Cheers star, 59, is on hand to support Lisa Marie's daughter Riley Keough, who stars in the film with Kristen Stewart and Dakota Fanning.
Lillie, 15, who calls herself a Kristen Stewart fan, is especially excited about seeing Kristen tonight during the premiere festivities.
MORE ON:
Red Carpet Confidential
Hm, what does she like about the actress dating Robert Pattinson?
"I think they fit well," she tells me.
Being the kids of Kirstie certainly has its perks.
"She provides us with these opportunities, like the show, and allows us to have such a big, fruitful life," Drew, 17, says.
Lillie adds, "I love that there's always something new coming. It's never boring, that's for sure."
For Kirstie, Drew and Lillie are the best thing about family.
"We're having a great time doing our show because we're altogether, and we get to see each other," she says.
She smirks, "And we get to make money together."
Kirstie Alley's Big Life airs Sundays at 10/9c on A&E.