NEWS
Kirstie Alley's 'Dancing With the Stars' Freestyle: Watch Actress Get Some Serious Air!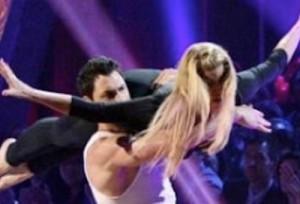 Kirstie Alley certainly gave it her all last night on the Dancing With the Stars final performance episode. And when it came to her freestyle dance with pro partner Maksim Chmerkovskiy, Kirstie decided to kick it up a notch and surprise the audience with some impressive acrobatic skills.
Kirstie's freestyle routine — which included elements of the Rumba and Cha-Cha — was filled with a surprising number of lifts and a cartwheel. She also danced barefoot, proving she was very light on her feet.
Article continues below advertisement
OK! NEWS: KIRSTIE ALLEY CARTWHEELS HER WAY TO DWTS FINALE — "IT WAS EXHILARATING!"
While the lifts weren't perfect, Kirstie certainly tried her best and the judges were impressed with her effort.
"That dance sort of embodies what I think you have become, which is the new poster child for life as it should be lived at 60 years old," Carrie Ann Inaba told a visibly-exhausted Kirstie.
"Honest truth, 10 weeks ago I never would have thought of you even attempting the lifts. I love that you went for it," Bruno Tonioli shared. "Romance in the beginning, sexy in the middle and gymnastics. Respect, girl!"
Kirstie told reporters after the show that the performance "was exhilarating," but she had wanted to do a handspring instead.
"I want to do a handspring, as I haven't been able to do a handspring my entire life," she explained. "Then at the last minute I thought do you really want to try this, this week, because I could land flat on my back. Who the hell knows what I would do? I don't even know."
Article continues below advertisement
Kirstie's first dance of the night was a sexy Samba, for which she received a standing ovation from close friend Kelly Preston.
"Softer, rich, full of womanhood," Bruno said of the dance. "But you were still looking at the floor. Play to the audience!"
In the end, the pair scored 9s across the board for both of their dances, putting them definitively in third place with 54 points. The other two couples both scored an almost-perfect 59 points, leaving it up to voters to pick a winner.
Watch Kirstie's two dances, below! Do you think she has a shot at the mirror ball trophy?
Freestyle
Samba
Reporting by Amanda Champagne