NEWS
Kourtney Kardashian & Scott Disick Are in a "Good Place"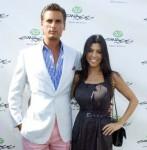 Fans of Kourtney Kardashian have seen every argument and outburst in her relationship with Scott Disick on Kourtney & Khloé Take Miami, but the new mom says they're now in a "good place".
In a recent episode of the E! show, Scott, the father of Kourtney's son, Mason, was captured on camera smashing a mirror and slamming a bathroom door.
OK! NEWS: KIM K. & JUSTIN B. CHANNEL THE GRADUATE
While fans and family alike are worried for Kourtney, she says the episodes were filmed months ago and the couple have moved on from that difficult time.
Article continues below advertisement
"The other day… Scott and I were walking down the street in New York and this lady's like, 'Kourtney! I love you!' And then she's like, 'Dump him!'" Kourtney told Access Hollywood over the weekend.
OK! NEWS: KIM & KOURTNEY: SCOTT HAS "MADE CHANGES"
"Scott and I were just like smiling and I was like, 'Okay, I'll do it for you.' And then I was like, 'Obviously I have to do what's best for me and my family.' And you know, we're in a really good place right now, luckily."
How does Kourtney feel watching that worrying period, captured by the cameras? "It's very hard to watch the episodes back," she said.
OK! NEWS: KHLOE KARDASHIAN: I'M GOING TO BE MARRIED FOR 50 YEARS
"You get like, the same feelings over again. Sometimes, when you watch the show, it brings up memories, whereas in a normal person's life you do something and you move on and you don't have to watch it and have everyone watch it and comment on it."
MORE ON:
Kourtney Kardashian
Article continues below advertisement
The 31-year-old said fans can expect to see how the couple got to their "really good place," on the final episodes of the current Kourtney & Khloe Take Miami which ends on Sunday at 10 p.m.
OK! NEWS: LAMAR ODOM STAYS "PATIENT" WITH SCOTT DISICK
"The show does, and it has since the beginning, followed my relationship with Scott and it continues to," Kourtney said. "There's one more episode of the Miami season, which will both heavily cover that."
She adds: "It follows the process and where we are and how we're doing with things, so you'll definitely get to see it in more detail."