NEWS
Kourtney Kardashian & Scott Disick Welcome Their Baby Boy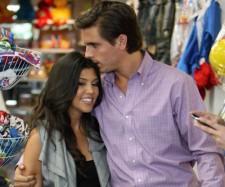 Kourtney Kardashian and boyfriend Scott Disick welcomed their first child, a boy named Mason Dash Disick, into the world early Monday morning, E! Online reports.
"Kourtney just delivered a healthy baby boy about an hour ago," her publicist said.
Their son was born at an L.A. hospital this morning weighing 7 pounds, 6 ounces and measured 19.5 inches long.
Coincidence that his middle name is the name of mom's boutiques? Probably not!
Article continues below advertisement
"A boy is definitely needed in this family!" Kourtney told E! News earlier in October. "Scott and I are thrilled to add a little boy to the bunch."
On Thursday, sisters Kim Kardashian and Khloé Kardashian Odom told Ryan Seacrest that Kourtney was "due any minute!"
We're glad her minute was finally up — she was starting to look very uncomfortable!