NEWS
Kourtney Talks About Khloe's Jail Time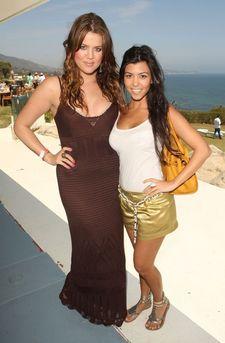 With Khloe Kardashian days away from a three-day stint in jail for violating probation, her sister Kourtney Kardashian is voicing her opinion on the situation.
On the red carpet at the 2008 ESPY Awards in Los Angeles, she told OK! how Khloe and the family are holding up.
"She's a really strong girl," Kourtney tells OK!. "I think she's devastated because she's a good girl. She doesn't normally get into a lot of trouble. But she's so strong and she gets through - I think we've all been through a lot in the past and we all work through it together. I would be so scared but Khloe is such a strong girl. I think she's upset but she knows she needs to do that for the mistakes that she has made."
Article continues below advertisement
When one of the girls gets in trouble the family always rallies to make it work. But, according to Kourtney, there isn't just one rock in the Kardashian clan.
"In every situation there is a different one," she says. "We all handle things differently. We're all strong."
While some may feel a life in front of the cameras may have led to such troubling times as of late, Kourtney feels the show just brings the family closer.
"Definitely," she says. "We are all together every day and we've always been really close but it definitely makes us closer since we're together all the time. It's so fun for people to see how close we are. That's the one thing people always love about the show."
Kourtney found herself at the ESPYs as a backup for mom Kris Jenner who bailed on Bruce Jenner (a popular guy at this awards show) last minute. But Kourtney, a red carpet pro, put on a Gucci dress and was ready to go.
Article continues below advertisement
"Bruce called me today at 1p.m. and asked me if I could go," she says. "I was working at the store and had to race home. This dress is Khloe's. We're not even the same size. I don't know how it worked out."
A marginal sports fan, Kourtney is looking forward to the show's host.
"I heard Justin Timberlake is hosting so I'll have fun staring at him the whole time," she says. "I love Justin. Bruce golfs with him a lot."