NEWS
Kourtney vs. Kim: It's War Over Scott!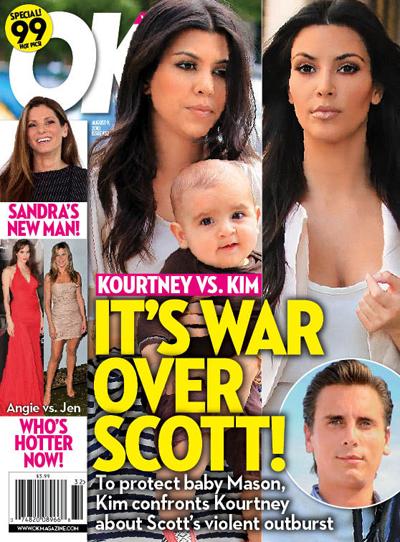 Kim vs. Kourtney: After boyfriend Scott Disick's violent rage left Kourtney Kardashian and sister Kim frightened, Kourtney's family is finally fed up. The couple has been making up and breaking up for years, but Scott's new job at Miami club MIA has brought even more problems. OK! has the scoop on Kim's pleas to get Kourtney to finally leave Scott, the reason that Kourtney can't let go and the promises that Scott has made to change forever.
Article continues below advertisement
Lindsay Lohan: Having hit rock bottom — being sentenced to 90 days in jail and a 90 day treatment program for violating the terms of her probation — pals close to Lindsay are crying foul over mom Dina's behavior. Find out what Dina's doing to jeopardize Lindsay's career — and her well-being.
Sandra Bullock: America's sweetheart has had to endure a year of change: her heartbreak and divorce from ex-husband Jesse James and the adoption of baby Louis in April. But now she's ready to move on and find love! OK! has the details on which Hollywood bachelor would be right for Sandra.
Best of the Week: George Clooney rants about Facebook, Angelina Jolie squares off against Leonardo DiCaprio at the box office and Elton John and Eminem are surprise best friends.
Plus: Angelina Jolie and Jennifer Aniston are both touring the globe to promote projects — OK! determines who's hotter now!; Is Rob Pattinson moving to NYC?; Secrets of the Jersey Shore house; Britney Spears hangs with boyfriend Jason Trawick's parents; Orlando Bloom and Miranda Kerr get married!; Around the world with The Bachelorette; The OK! Big Hair Awards; Madonna's photo shoot with Taylor Momsen; J.Lo's weight loss secret; Gossip Girl fashion!