NEWS
Kris & Adam: Vote Should Be about Talent, Not Religion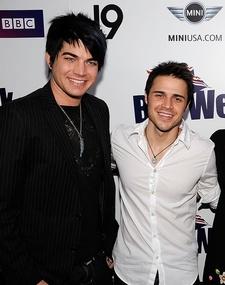 As far as singers go, there couldn't be two more different competitors this season than Kris Allen—the laid-back, aww-shucks cutie pie from Arkansas—and the over-the-top and flamboyantly theatric Adam Lambert.
And in the week since it was decided that these two would square off in Tuesday night's American Idol finale, a lot of online chatter has been about how Adam will win because he's the first openly gay finalist or about how Kris will win because of the support he's receiving from his Christian fan base.
Article continues below advertisement
But on Monday night, both Adam and Kris made it clear that fans should pick this season's Idol champ not based on religion or sexual preference but — shockingly — on who they think is the better singer.
"I hope having the Christian vote doesn't have anything to do with who wins," Kris explained at a press conference on Monday. "I hope it has to do with talent and the performance that you give and your package, and it's not about religion."
Not surprisingly, ?Adam agreed. "This is a talent competition, not a church thing," said the San Diego-based rocker. "I would hope people vote based on what they like to hear… not what religious background you are or what color you are or what gender... It doesn't really have anything to do with that. It's about music."
Rather than focus on their differences, the pair talked openly about their shared love of performing. "I think we both love music, we share that," said Adam. "We get along really well; we were roommates early on in the competition."
Article continues below advertisement
Added Kris, "We both have a passion for this; we've both wanted to do this for a long time."
Adam did take a second to play down reports that his background as a professional musical theater actor has given him an unfair advantage this season. "This isn't theater," he explained. "So I don't really see how it affects it at all. Obviously I've had experience on the stage performing, but so has Kris, just in different venues. Kris has worked clubs and with a band. And I've worked in theater. We both have experience."
Joked Chris, "I've had just as much experience, just, you know… I wasn't in Wicked!"
Tune in tonight to see these two very different — but apparently very similar performers— compete in the American Idol finale!