NEWS
Kris Allen is the New American Idol!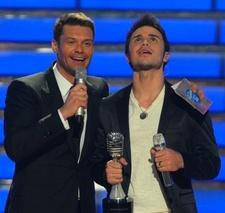 Since the very beginning of the American Idol semifinals this season, all the oddsmakers were putting the sure money on Adam Lambert to walk away victorious in the end. With his polished stage presence, a vocal range that was — shall we say expansive? — and a theatricality that had audiences in the theater and at home howling for more, the San Diego native was definitely the one to beat.
But apparently no one told that to the fans of fellow finalist, Kris Allen, who managed to hone his aww-shucks just-another-guy persona into a stage persona that grew each week in confidence and popularity. He shocked the world last week when he beat out Danny Gokey for the spot next to Adam in the finals. But could he do it again in the finale with everything on the line?
Article continues below advertisement
The answer: Yes he could.
In what has to be the biggest upset in eight seasons of the hit Fox show, Kris was named the American Idol champ on Wednesday night, earning the majority of the almost 100 millions votes.
"I don't even know what to feel right now," a stunned Kris said after hearing the news from host Ryan Seacrest. "Thank you so much."
MORE PICS FROM THE IDOL FINALE!
But before the results were announced, Adam and Kris had to wait for over two hours, through seemingly countless duets, group songs, and medleys featuring appearances from Cyndi Lauper, KISS (in full makeup), Fergie and The Black Eyed Peas, Lionel Richie, David Cook, Carlos Santana, Keith Urban, Rod Stewart, Jason Mraz, Queen Latifah, Queen, Steve Martin and all 13 Idol finalists.
Aside from the results, the night's most surprising moment came when judge Kara DioGuardi jumped on stage to join former contestant Katrina Darrell — you know, the girl who auditioned in a bikini (and who appeared to have enhanced her... assets... in the months since first appearing on the show). At the end of their duet — more like a duel, actually — Kara ripped open her outfit to bare her own super-fit physique in nothing but a black bikini!