NEWS
Kris Allen Sees Fatherhood In His Distant Future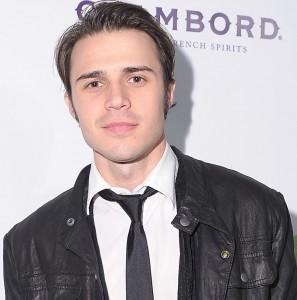 It's the little things that count

for American Idol winner Kris Allen, who confesses he was attracted to wife Katy because of a certain asset.
"The first thing that I saw was that she had a nice butt," he tells me at the Mint Jubilee Celebration surrounding the Kentucky Derby in Louisville. "That's what attracted me to her initially."
Although Katy doesn't join him for the Derby festivities, he plans to treat her to a nice hat. "She'd love that."
Article continues below advertisement
Still, Katy isn't easy to please. Kris, 25, says he never serenades the woman he married in 2008.
"She would hate that. Not that she hates my voice, but we've been together for so long, and she loves hearing me sing songs that I've written, whether they're new or old, she loves hearing that, but I'm not trying to woo her with my voice anymore. I think we're past that point."
Hm, did he ever sing to her?
MORE ON:
Red Carpet Confidential
"Not really. That wasn't the reason she liked me was my voice."
He laughs that he has "no idea" why she liked him.
With the celebrity baby boom taking place, Kris sees himself becoming a father later in life.
"It's definitely going to be somewhere in the future," he says. "We're getting used to our dog Zorro now, which was in ya'll's magazine. It will happen at some point, but we just don't know now."
Article continues below advertisement
He continues, "I feel like everybody should have a dog before they have a kid. I feel like I've learned so much about timing. That animal takes up so much time. I can't imagine how much a kid is going to take. It's getting me used to it. I love him, though."
For now, he's bubbling over with excitement about the Kentucky Derby.
"I've never been to a horse race before. I've been to a dog race – I haven't been to a horse race, so we'll see what happens."
Will he bet?
"I probably will. I feel like I have to at the Kentucky Derby. I don't think I'm going to go all out or anything. I might pledge $2 on a horse or something."
Here's my pic with Kris: