NEWS
Kris Allen "Shocked" by His Own Idol Victory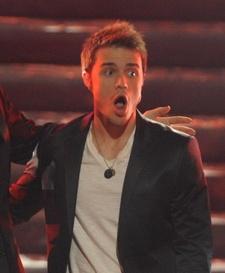 When Kris Allen was announced as the winner on Wednesday night's American Idol finale, it wasn't just the odds-makers around the world who were stunned that the cute kid from Arkansas had upset the overwhelming frontrunner Adam Lambert.
"I'm shocked... really shocked," a still-stunned Kris said backstage afterward. "I felt shocked almost every week that I made it, and to be the American Idol, I'm completely shocked."
Article continues below advertisement
In fact, the 23-year-old was so surprised by his own victory that he quietly declared "Adam deserves this" during the final moments of the Fox live broadcast.
"I feel like he deserves this just as much as I do," Kris explained. "He's an amazing performer, gifted guy and really just an amazing guy. It was fun doing this with him. It really was."
When Kris got the chance to celebrate his win with his wife of almost eight months, Katy, their joy was beyond words. "We actually didn't say anything," he revealed. "We were just hugging each other and we're just like, uh, we can be married. We haven't been able to be married for the past nine months... She's amazing. She's the coolest chick in the world."
MORE PICS FROM THE IDOL FINALE!
As for what he hopes to do musically with his first post-Idol album, Kris said, "I think it's pretty obvious that I've done a lot of the singer-songwriter pop-rock kind of thing and that's something I want to do."
Kris, who says he's been dreaming of a moment like this since he first picked up a guitar at the age of 13, had a message for his young fans: "Don't have any regrets in life. If you want to do something, go after it," he said. "And if you fail a little bit, just keep going because something can happen with it."
Were you surprised by Kris' victory? Go to twitter.com/okmagazine and tell us what's on your mind!
Reporting by Carole Glines