NEWS
Kris Allen Talks to OK! About Music Empowers, Matthew Morrison & a New Tattoo!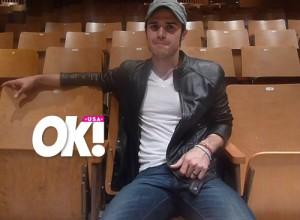 American Idol winner Kris Allen has become known for taking time out of his busy schedule to work with various charities. From his trip to Haiti and his USO tour, Kris has many causes that are dear to his heart, but one charity that Kris has been working very closely with over the past year is The Music Empowers Foundation. This organization works to bring awareness and help keep music education in schools which is so important for kids. Now, Kris and Music Empowers have teamed up with Berklee City Music for a 4-city tour where Kris will perform with an all-stars band made up of music students to continue to show why music education is so vital. OK! had the chance to catch the concert when it stopped in NYC yesterday and these kids have so much talent, showing why music education is so important.
Article continues below advertisement
OK! NEWS: KRIS ALLEN LAUNCHES THREE-CITY TOUR FOR MUSIC EMPOWERS FOUNDATION & BERKLEE CITY MUSIC
Watch below as we chat with Kris about his work with Music Empowers, the music he is working on for his new album, how he feels about having a song he wrote on Glee star Matthew Morrison's new album and so much more. We even ask him about his new mystery tattoo. Then scroll down to watch Kris talk about his love for music education and The Berklee City All Stars perform with Kris on his big hit "Live Like We're Dying." Plus, see Kris do an amazing acoustic version of "Stand By Me." The E Street Band's Steven Van Zandt was even in the audience and loved it!
To donate to the Music Empowers Foundation, please visit Kris' official site: krisallenofficial.com!
What do you think of all the charity work that Kris is doing? Are you excited about Kris' new album? What did you think of the Berklee City All Stars singing "Live Like We're Dying"? Let us know in the comments!