NEWS
Kris Humphries 'GMA' Interview on Kim Kardashian Divorce: "Got to Move Forward"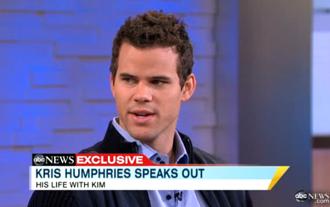 Article continues below advertisement
"For me it's just that certain things happen in life and you've got to move forward. So, I'm excited to be where I'm at right now with the NBA season coming up and I'm ready to go."
Kris responded to Kim's filing for divorce by filing for both a legal separation and an annulment. So, what does Kris hope the court will decide?
"Well, really right now I'm focused on basketball and other things will take care of themselves. It's a great day for the NBA and the fans. For most people camp starts today at, I think, 4 o'clock. So, hopefully I'll be on a team soon and be ready to go."
Article continues below advertisement
"I can't say for sure or not for sure," Kris explained. "It's the only time I've been married."
"For me, it's all about moving forward and being excited about the opportunity to give back through my foundation focusing on childhood obesity and trying to do some great things," he added. "Because life is more about how you can help other people and making the most out of your platform, so that's what I'm really focusing on."
OK! COVER STORY: KIM KARDASHIAN BREAKS HER SILENCE — WHAT I DIDN'T TELL KRIS HUMPHRIES
Is Kris worried his public image has taken a hit by what has happened?
"I don't really play into all the gossip and things that take place, but it's life," Kris said.
And then, GMA boldly asked Kris, "Do you still love her?"
"This guy!" Kris said with a laugh. "I'm focused on just, you know, what I can control. Which is being ready to play ball and supporting my mom and her cookie bake today."